This bookish meme tells the blogosphere what we're waiting patiently (and sometimes not so patiently) for! It's hosted by Jill over at Breaking the Spine!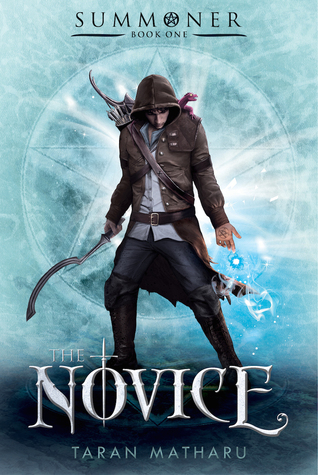 When blacksmith apprentice Fletcher discovers that he has the ability to summon demons from another world, he travels to Adept Military Academy. There the gifted are trained in the art of summoning. Fletcher is put through grueling training as a battlemage to fight in the Hominum Empire's war against orcs. He must tread carefully while training alongside children of powerful nobles. The power hungry, those seeking alliances, and the fear of betrayal surround him. Fletcher finds himself caught in the middle of powerful forces, with only his demon Ignatius for help.
As the pieces on the board maneuver for supremacy, Fletcher must decide where his loyalties lie. The fate of an empire is in his hands. The Novice is the first in a trilogy about Fletcher, his demon Ignatius, and the war against the Orcs.
Published by:
Feiwel & Friends
Expected Publication: May 5, 2015
Why I'm Waiting:
I found this one because of the TTT post yesterday. It's a debut and it sounds super cool. It's about summoning demons! And it seems like a cross between fantasy and paranormal which makes it even more appealing! But of course, my biggest deciding factor.... I love the cover!!!!
Will you be waiting on this with me?
What are you waiting on this week?