This bookish meme tells the blogosphere what we're waiting patiently (and sometimes not so patiently) for! It's hosted by Jill over at Breaking the Spine!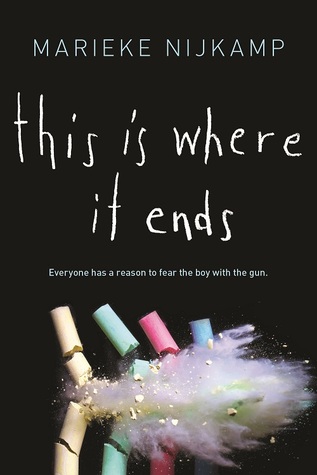 This is Where it Ends by Marieke Nijkamp
10:00 a.m.
The principal of Opportunity, Alabama's high school finishes her speech, welcoming the entire student body to a new semester and encouraging them to excel and achieve.
10:02 a.m.
The students get up to leave the auditorium for their next class.
10:03
The auditorium doors won't open.
10:05
Someone starts shooting.
Told over the span of 54 harrowing minutes from four different perspectives, terror reigns as one student's calculated revenge turns into the ultimate game of survival.
Published
by:
Sourcebooks Fire
Expected Publication:
January 5, 2016
Why I'm Waiting:
The synopsis sounds so good! I want to know what made him/her seek out revenge in this way and also if the entire book will be told by what time it is. Also, I NEED to know if the student's plan for revenge is only for the 4 students or if it's for the entire school and those 4 are only ones who survived? There's just so many questions I need the answer to!
What are you waiting on this Wednesday?
Will you be waiting on this with me?!