This bookish meme tells the blogosphere what we're waiting patiently (and sometimes not so patiently) for! It's hosted by Jill over at Breaking the Spine!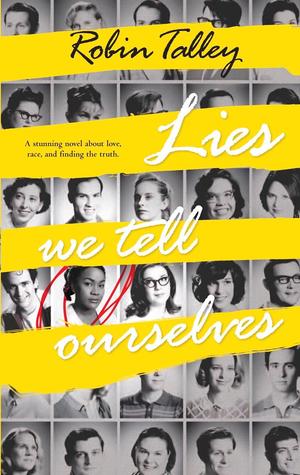 In 1959 Virginia, the lives of two girls on opposite sides of the battle for civil rights will be changed forever.
Sarah Dunbar is one of the first black students to attend the previously all-white Jefferson High School. An honors student at her old school, she is put into remedial classes, spit on and tormented daily.
Linda Hairston is the daughter of one of the town's most vocal opponents of school integration. She has been taught all her life that the races should be kept separate but equal.
Forced to work together on a school project, Sarah and Linda must confront harsh truths about race, power and how they really feel about one another.
Boldly realistic and emotionally compelling, Lies We Tell Ourselves is a brave and stunning novel about finding truth amid the lies, and finding your voice even when others are determined to silence it.
Published by:
Harlequin Teen
Expected
Release
Date:
September 30, 2014
Why I'm Waiting: At first I was iffy on this one because I though it would be a hard subject for me to stomach. But at the same time, I said that I would give historical fiction this year, and what better way to do that than find a subject I am already interested in. I studied African American history before and think this book may help to open my eyes on new subjects.
BTW, this is my 1,000th post on the blog! I smell a celebratory giveaway coming soon! If I reach 400 followers as well, I'll make it a really good prize. Like maybe a special edition Fangirl by Rainbow Rowell.... But we'll have to get there first!!!!! Follow via GFC on the sidebar --->