This bookish meme tells the blogosphere what we're waiting patiently (and sometimes not so patiently) for! It's hosted by Jill over at Breaking the Spine!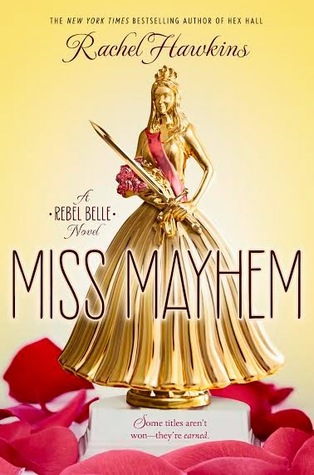 Life is
almost
back to normal for Harper Price. The Ephors have been silent after their deadly attack at Cotillion months ago, and best friend Bee has returned after a mysterious disappearance. Now Harper can return her focus to the important things in life: school, canoodling with David, her nemesis-turned-ward-slash-boyfriend, and even competing in the Miss Pine Grove pageant.
Unfortunately, supernatural chores are never done. The Ephors have decided they'd rather train David than kill him. The catch: Harper has to come along for the ride, but she can't stay David's Paladin unless she undergoes an ancient trial that will either kill her . . . or connect her to David for life.
Published by:
Putnam Juvenile
Expected Publication: April 7, 2015
Why I'm Waiting:
Rebel Belle
is
easily
one of my favorite reads of 2014! I loved the action and suspense and just everything. Harper was so down to Earth and kick ass that I can't wait to see what her and David meet in Miss Mayhem. Although I'm not a huge fan of this cover, I am a huge fan of this series and I can't wait to see where Rachel Hawkins takes them next!!!
Will you be waiting on this one with me?
What are you waiting on this week?!