This bookish meme tells the blogosphere what we're waiting patiently (and sometimes not so patiently) for! It's hosted by Jill over at Breaking the Spine!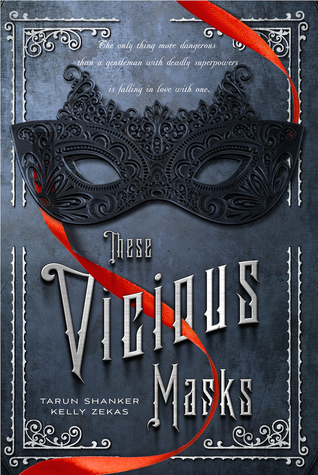 These Vicious Masks by Tarun Shanker & Kelly Zekas
Evelyn has no interest in marriage and even the dashing Mr. Kent can't inspire her to give in to society's expectations. She'd much rather assist her beloved sister Rose in her radical quest to become a doctor. Then she meets Sebastian Braddock. The reclusive gentleman is vexing, annoyingly attractive, and quite possibly mad—and his interest in Rose is galling. So when Rose disappears, Sebastian is immediately suspect.
Yet Sebastian's strange tales of special powers soon prove to be true, and Evelyn learns that Rose's kidnappers have much worse in mind for her than simply ruining her reputation. Surrounded by secrets, lies, and unprecedented danger, Evelyn has no choice but to trust Sebastian, yet she can't help but worry that his secrets are the most dangerous of all…
Published by: Swoon Reads
Expected Publication: February 9, 2016
Why I'm Waiting: This synopsis sounds super cool! And the freakin cover is gorgeous and seems 3D. And the number one reason I want to read it? It was written by two members of #WeNeedDiverseBooks. As a diverse blogger, I will read anything that features diversity, and you should too!