This bookish meme tells the blogosphere what we're waiting patiently (and sometimes not so patiently) for! It's hosted by Jill over at Breaking the Spine!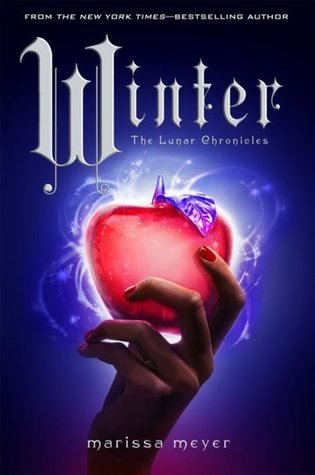 Winter by Marissa Meyer
Princess Winter is admired by the Lunar people for her grace and kindness, and despite the scars that mar her face, her beauty is said to be even more breathtaking than that of her stepmother, Queen Levana.
Winter despises her stepmother, and knows Levana won't approve of her feelings for her childhood friend–the handsome palace guard, Jacin. But Winter isn't as weak as Levana believes her to be and she's been undermining her stepmother's wishes for years. Together with the cyborg mechanic, Cinder, and her allies, Winter might even have the power to launch a revolution and win a war that's been raging for far too long.
Can Cinder, Scarlet, Cress, and Winter defeat Levana and find their happily ever afters?
Published by: Feiwel & Friends
Expected Publication Date: November 10, 2015
Why I'm Waiting: If you've visited my blog before today, you know how big a fan I am of the Lunar Chronicles series. It may have taken me a while to read Cinder after it's release, but once I did, I couldn't get enough of this series. And now, the last book in the series is coming out and I can't wait. From reading Cress while I brought in the New Year by myself (2014), meeting Marissa Meyer at Montgomery County Book Festival and crying while talking to her (I was the chick who sung Happy Birthday that one year lol), to getting my blog name in the paperback edition of Scarlet, to reading Fairest in one day.... I have so many amazing memories of the Lunar Chronicles series and I'm kinda sad to see this series end. But honestly, for Winter to be 800+ pages, omg I just KNOW it's going to be amazing. I can't wait to see what happens to my favorite characters. I plan to do a complete series re-read before Winter's release. But most of all, I can't wait to see how Winter incorporates Snow White and how amazing it will be since Winter is a POC. Gah I'm already excited.
What are you waiting on this week?
Will you be waiting on this with me?