This bookish meme tells the blogosphere what we're waiting patiently (and sometimes not so patiently) for! It's hosted by Jill over at Breaking the Spine!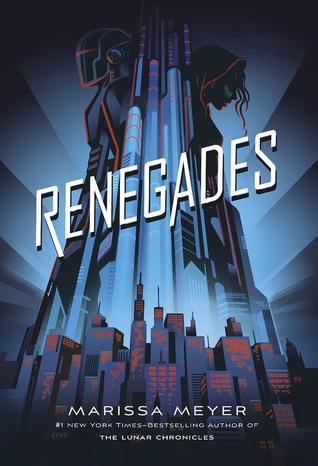 From #1 New York Times-bestselling author Marissa Meyer, comes a high-stakes world of adventure, passion, danger, and betrayal.
Secret Identities.
Extraordinary Powers.
She wants vengeance. He wants justice.
The Renegades are a syndicate of prodigies—humans with extraordinary abilities—who emerged from the ruins of a crumbled society and established peace and order where chaos reigned. As champions of justice, they remain a symbol of hope and courage to everyone...except the villains they once overthrew.
Nova has a reason to hate the Renegades, and she is on a mission for vengeance. As she gets closer to her target, she meets Adrian, a Renegade boy who believes in justice—and in Nova. But Nova's allegiance is to a villain who has the power to end them both.
Published by:
Feiwel & Friends
Expected Publication: November 7, 2017
Why I'm Waiting: For the first WoW of the year I always use my most anticipated for the year. So, since I have 2 super highly anticipated reads this year, I did one in January and I'll do one now for the SECOND half of 2017! So, y'
all know I'm a HUGE fan girl of Marissa Meyer's. I once camped out in a signing line for her's two hours early to get something signed by her. Then I also begged the people at BEA for just a Heartless BOX so my ARC wouldn't be naked lmao It's safe to say, I am super excited for this one too! And I LOVE how different it seems from her other series! Still futuristic, but with a completely different feel! I can't wait for this one! Also, I gotta say, this is my FAVORITE cover of her's so far!
What are you waiting on this week?
Will you be waiting on this with me?